Mumsbest - Swaddle Muslin Blanket

What is Swaddle?
Swaddling is an age-old practice of wrapping infants in blankets or similar cloths so that movement of the limbs is tightly restricted. Swaddling bands were often used to further restrict the infant.
Swaddling fell out of favor in the 17th century.
Some modern medical studies indicate that swaddling helps babies fall asleep and to remain asleep and helps to keep the baby in a supine position, which lowers the risk of sudden infant death syndrome (SIDS).

Why do we need to use Muslin Blanket, not a swaddle bag?
We can make a list of these two products.
Muslin blanket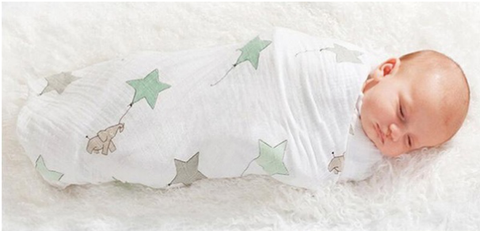 Pros:
1:100% Cotton: You dont worry about muggy in the baby especially on a summer day, it made of 100% cotton which is a breathable material. This can help air circulate around the baby body and keep it warm not hot!

2:Multiple use:It is not only for baby sleep but also as a bath towel. withing babies grown, moms always have trouble with how to deal with some products because these products cant be very useful for the baby. For a muslin blanket, you will not have this problem! The muslin blanket is big enough from newborn to baby!


3:Color: according to the market study, mom needs at least 5-10Pcs muslin blanket for their baby. We have more than tens of colors that you can choose!
4:Suitable for Sensitive


Con:
1:Usage: moms need to care about usage's guide because you dont want the blanket too tight or you can harm your baby. If it is too loose, the muslin blanket will unfurl and the swaddling effect is lost.

Fortunately, we take a video about how to use the swaddle muslin blanket!

Swaddle bag
Pro:
1:it is easy to use no matter you are a new one.
Cons:
1:only for swaddle baby.
2:it dont have too much color that you can choose from

No matter which ways are you prefer, you need a swaddle for your baby!
If you are going with a swaddle muslin blanket, here is some good news that you can learn about!
1:You need to wash it before the babies use it.
2:120cm*105cm and 120cm*120cm, two kinds of perfect sizes can make u feel better to use!
3:Mumsbest muslin blanket will be softer and softer after washing several times.
Finally,
On top of not letting your little one wear a hat when being swaddled, there are some other risks you need to be aware of.

Watch the temperature – Swaddling can increase the risk of your baby overheating.
Use breathable material for swaddling and Look for signs that your baby is getting too hot such as sweating, flushed cheeks, and rapid breathing.
Let those hips waggle – If a baby is swaddled too tightly then there is a risk of hip problems such as hip dysplasia. Practice "hip-healthy swaddling". Your baby should still be able to bend his or her legs up and out.
Place your baby on the back to sleep – Watch your baby sleep to be sure your little one does not roll over while swaddled.
Swaddling, when done correctly and safely, can be surprisingly effective at soothing your baby.